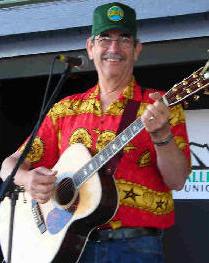 Mike Campbell
Singer/Songwriter/Story Teller
For the past 20+ years Mike Campbell has been singing and writing songs about Alaska, earthquakes, seafaring, family, beer, fishing and life. His songs are humorous, witty, sorrowful, historic, thoughtful and above all entertaining. Mike has performed in England, Maryland, Colorado, Arizona, Florida, Massachusetts, Washington, the Caribbean and almost everywhere in Alaska. His original songs have been recorded by others and are being sung in stage presentations on three continents. Some of Mike's songs are being considered for movie and TV soundtracks.
In 1994, Mike's first recording "The Sculptor" made its debut. This was quickly followed by his next CD "High Country" in 1996. The year 2000 saw Mike's third CD "Sad Eyes". His most recent recording "Mars Outback" came out in 2005. Every one of these songs are originals, many of them award winners and all of them dear to the hearts of his fans. Even though Mike's CD's have received high acclaim, the best way to experience this great Alaskan Storyteller-Songwriter is at one of his live shows. In 2010, Mike retired and moved to southwest Florida where he regularly performs at open mics, song circles and music festivals.
"If Tennessee Ernie Ford and Roger Whitaker could have a baby, it would
sound just like Mike Campbell." Matt Hammer, the Great Alaskan Opry.
"Campbell weaves Alaskan landscape and emotions together with the ease
of an accomplished songwriter." Deanna Thomas, the Alaska Star.
"The real strength of Mars Outback, what sets it above other folk/singer-
songwriter albums, is (Campbell's) mastery of storytelling." C. Nathan
Coyle, Rambles.NET.
"With music ranging through folk, country, popular theatre and other
styles, Sad Eyes is an interesting mix of well-written story songs performed
with just the right level of drama by a man with a powerful voice."
Bob Mackenzie, Sound Bytes.
"Mike don't suck!" Larry Mangum, Florida Folk Icon.
http://www.arctic.net/~mooseman