SHUREGOOD ADVENTURES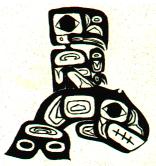 HALIBUT FISHING
Based out of Dutch Harbor, Alaska, Shuregood Adventures is in the heart of the most productive fishing waters in the world. In the last 3 years, 2 IGFA world record halibut have been taken from the nearby waters. Average fish for a trip are in the 50 to 100 pound class with one or two people taking a fish in the 150 pound plus class.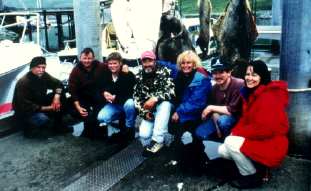 "Hanging out with a few of the big ones!"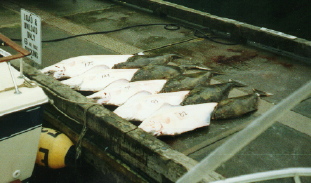 Lining them up on the dock,
Front Row from the top: 175 lbs, 123, 98, 93, 82
Back Row: Nothing less than 60 Pounds
---
FISHING GEAR
Because we don't want to see you lose the chance at a big fish we offer you the best gear possible. We supply you with Penn Senator 6/0 Reels and 130 lb. Test Spectra line on 5'6" stand up fighting Penn Alaska Gold rods to battle the barn doors that are so common here. And, to make it a little more comfortable fighting the giants, we have fighting belts and harnesses to reduce the aches and pains that you are bound to have at the end of the day from battling the big one(s). If you want to be brave we also carry light gear for those of you looking to break a World Record on light line. And if you have a special request just give us a call and we'll be happy to try and accommodate your every fishing need.
ALTERNATIVE FISHING
| | |
| --- | --- |
| If you want more than just the big Halibut, we offer trips for Salmon, Dusky Rockfish (Sea Bass), Pacific Cod and assorted other deep sea fish. This is a great way to break up the day and relax while your body recovers from the Halibut fishing. Fishing gear for all trips is provided. | |



Guest List
Our guests include some of the Premier outdoorsmen in the business. We have fished with the crews from ESPN's The Hunt For Big Fish (Larry Dahlberg), Doug Olander from Sport Fishing Magazine, Terry Rudnick from American Outdoor Writers Association, and Babe Winkleman's Good Fishing Show. One quick note is to watch Babe's show on WGN. He landed a 411 pounder with us which was one of the largest Halibut caught in Alaska in 1997.
And if the fact that they are on our guest list doesn't say something, two out of three of them may be back again this year.
Their goal -
To land a new World Record!!



For rates and tour packages,


| Home Page | History | Marine Life |
Web Page Design by

Dogroe Enterprises®


©Copyright, March 1997 by Shuregood Adventures